This demo hides/shows certain paragraphs when user clicks hyperlinks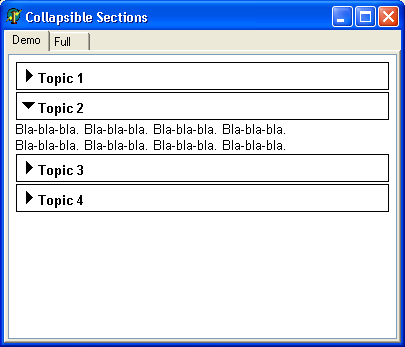 http://www.trichview.com/support/files/ ... psible.zip
Multilevel collapsible paragraphs
In addition to collapsible.zip , we've created a new demo: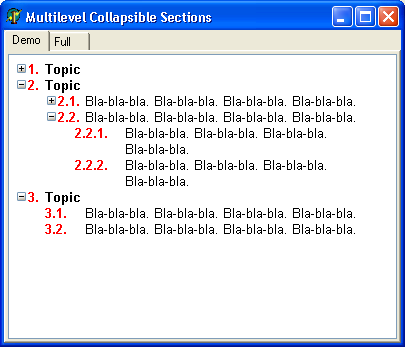 http://www.trichview.com/support/files/ ... psible.zip
The previous demo shows/hides paragraph between the heading paragraphs.
This demo has multilevel numbered paragraphs, and higher level paragraph hides/shows deeper paragraphs.
Numbering is implemented by LabelItem type. It's possible to use "real"
numbering, but "real" numbering cannot have plus/minus pictures before it.
Multilevel collapsible paragraphs - 2
And one more demo on the same topic: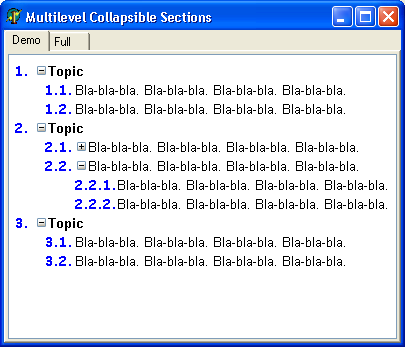 http://www.trichview.com/support/files/ ... sible2.zip
It's visually like the previous one, but plus/minus pictures are after numbering.
This demo uses real (autocalculated) paragraph numbering, so it does not
need labelitems and special paragraph styles.
Expand/collapse using hidden text
http://www.trichview.com/support/files/ ... entext.zip
Visually, this demo is like the first one.
But unlike all the demos above, it does not need a second TRichView containing a full document.
Instead of deleting collapsed paragraphs, this demo hides them.
See also:
- contact list demo with collapsible user groups
http://www.trichview.com/forums/viewtopic.php?p=12608
Updates:
2008-May-14: for compatibility with TRichView 10+.
2008-Dec-9: for compatibility with TRichView 11+
2011-Oct-1: for compatibility with TRichView 13.4+
2013-Jun-28: new demo, made using a "hidden text" feature
2018-Apr-13: for compatibility with TRichView 17.3+
Old versions of these demos (for TRichView 17.2 and older):
http://www.trichview.com/support/files/collapsible.zip
http://www.trichview.com/support/files/ ... psible.zip
http://www.trichview.com/support/files/ ... sible2.zip
http://www.trichview.com/support/files/ ... entext.zip