1. Simple demo
http://www.trichview.com/support/files/chatcodes.zip
This demo shows how to add text with some codes:
\b
- bold on/off
\i
- italic on/off
\u
- underline on/off
\cRRGGBB
- text color
\kRRGGBB
- text background color
2. Advanced demo with plain text input
In addition to the demo above, it supports the commands:
\f"FONTNAME"
- changes font name
\sNN
- changes font size to NN points (it's also possible to use one digit
\sN
followed by non-digit character; if this character is a space, it is not displayed)
This demo supports:
-
Emoticons
. They can be easily customized, just modify CreateEmoticons procedure. In this demo, bitmaps are used, but you can easily change them to
animated gifs
.
-
URL detection
-
message preview
as you type.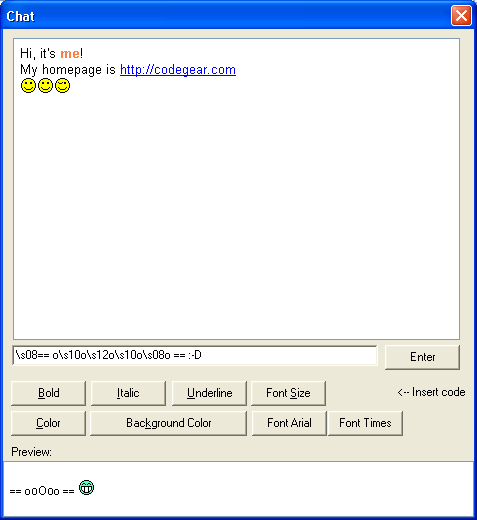 3. Advanced demo with rich text text input
The demo converts the message to a string (using the codes described above), then this string is parsed and added to the chat window.
See also:
- Contact list demo
http://www.trichview.com/forums/viewtopic.php?p=12608