New versions are released: TRichView 14.12, RichViewActions 4.5, ScaleRichView 5.9
Trial versions are available here:
http://www.trichview.com/download/
Touch screen support
(for Delphi 2010 or newer)
The main new feature since the
previous public release
is a touch screen support:
- panning gesture is supported in all visual controls
- two finger zooming is supported in TRVPrintPreview and in TSRichViewEdit
- selecting on a touchscreen is possible with special handles in TRichView, TRichViewEdit and TSRichViewEdit: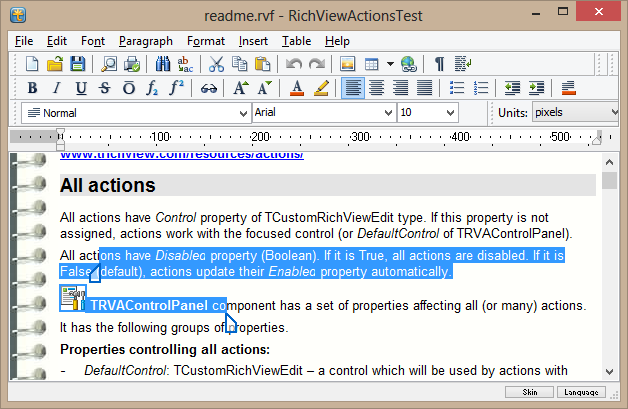 You can change appearance of selection handles:
http://www.trichview.com/help/idh_trvst ... ekind.html
Other changes
Mouse click in TRVPrintPreview and TSRichViewEdit (in a preview mode) not only changes zooming, but zooms to the clicking point.
New editing operations for changing item properties, especially useful for the following item types: labels, numbered sequences, footnotes, endnotes.
---
Unfortunately, the previous update (TRichView v14.9.3) contained a serious bug (because of last-minute changes), so, if you downloaded a previous trial, it is highly recommended to update.
---
If you like this update - there are +1 and like buttons at the top right side of the page

---
Complete list of changes
Previous versions
http://www.trichview.com/forums/viewtopic.php?t=6113