TRichView in Applications
---

Product Page: www.donationcoder.com/Software/Mouser/UnicodeImageMaker
Developer: DonationCoder
Interface: Multilingual
License: Freeware (Free registration)
---
Unicode Image Maker is a program for international users that lets you create images from formatted text, especially Unicode or Nonstandard Font Text.
It is useful for adding unicode text as images in graphics applications that cannot directly support Unicode.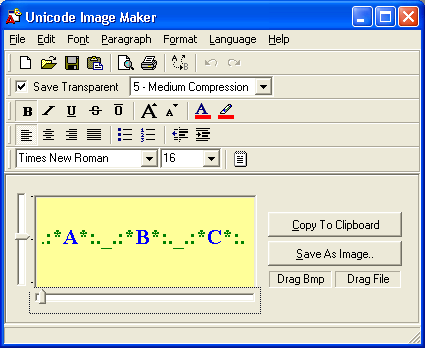 ---
Disclaimer: This application is listed here because it uses our programming library. We are not the developers of the applications listed in this section of the web site (unless explicitly stated). Contact information for the developer of this application is at the beginning of the page. Please address all support or sales questions regarding this application to the developer.
We are trying to keep information in this section of our site up to date. But applications are evolving, and some information or graphics may be obsolete.