What is TRichView?

TRichView is a suite of native Delphi/C++Builder components for displaying, editing and printing hypertext documents.

ScaleRichView is a TRichView addon providing WYSIWYG editing.

Components support various character attributes (fonts, subscripts/superscripts, colored text background, custom drawn). Documents can contain tables, pictures, images from imagelists, arbitrary Delphi controls. Left, right, center or justify alignments of paragraphs, multilevel bullets and numbering, custom margins and indents, Unicode, background images, print preview, RTF import and export, HTML export, data-aware versions and more...
---
TRichView News
TRichView News
November 5, 2012: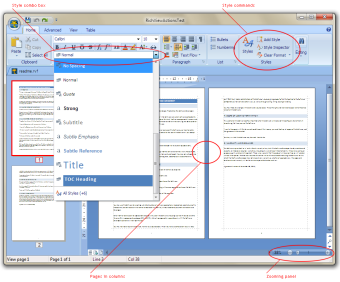 New versions are released: TRichView 14.0, RichViewActions 4.0, ScaleRichView 5.0
Main changes since the previous public release:
compatibility with RAD Studio XE3 (32-bit and 64-bit VCL);
text and paragraph styles allow separating formatting from content, and help you to apply consistent formatting to your documents;
new properties for non-text objects (border, background color, spacing inside and outside the border);
[ScaleRichView] zooming panel;
[ScaleRichView] ability to arrange pages in columns;
[RichViewActions] a complete user interface to apply and customize styles:

new actions for a style management: adding, deleting, editing, importing and exporting styles (screenshot);
new list box and combo box components to apply styles to the selection;
new actions to clear text and paragraph formatting;
new action for displaying styles and inline formatting for the current position in the document (screenshot);
existing actions are modified to use styles;

[RichViewActions] combo boxes for applying font name and size can be linked to editors and do not require writing any programming code to work;
[RichViewActions] translation of the user interface to new languages: Catalan, Spanish (European), Hindi, Thai;
countless small improvements.
The complete lists of changes (since TRichView 13.0, RichViewActions 3.0, ScaleRichView 4.0):
Trial versions are available.
December 22, 2011:
Rich text data editors for Developer Express components are available.
Now you can use TRichViewEdit together with Developer Express components, both as separate editors and inside a Quantum Grid. The rich text editors used in DevExpress components are based on the standard RichEdit control; if you replace them with our controls, you will be able to use advanced formatting features provided by our components and UI created by RichViewActions directly inside cxGrid control.
More information about the editors for Developer Express VCL
September 25, 2011: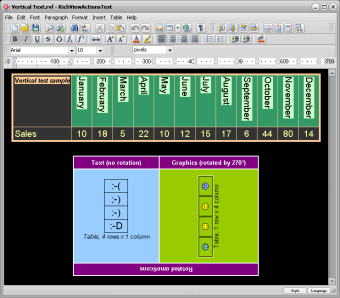 Our components support Delphi XE2
New versions of our components are released: TRichView 13.4, RichViewActions 3.4, ScaleRichView 4.3:
Delphi XE2 is supported, the both Win32 and Win64 compilers (in VCL projects);
Delphi XE2's visual styles are supported (a themed drawing of scrollbars and borders, rulers, etc. – screenshot);
table cells can be rotated by 90°, 180°, or 270°;
new actions in RichViewActions: for cell rotation, table sorting, converting table to text, table splitting (screenshot);
improved processing of text files (RichViewActions allow choosing a text file encoding on loading and saving);
RichViewActions support inverted (light text on dark background) color schemes;
ScaleRichView supports a Gif animation and "smart popup" buttons (until this version, these features were supported only by TRichView);
some usability tweaks.
The complete lists of changes (since TRichView 13.0, RichViewActions 3.0, ScaleRichView 4.0):
Trial versions are available.
March 20, 2011: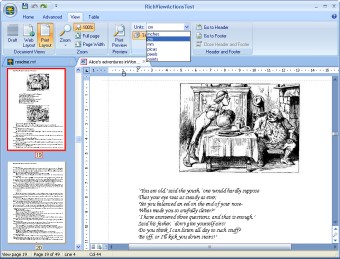 New versions are released: TRichView 13.0, RichViewActions 3.0, ScaleRichView 4.0
Main changes since the previous public release, TRichView and ScaleRichView:
possibility to define lengths in twips (1/20 of point) instead of pixels;
hidden text;
shared graphics (the same graphic objects can be used in several document items);
incremental printing (by defining a range of items to print, so you can print a document part by part);
[ScaleRichView] printing several pages on the same paper sheet using TSRVPrint component.
Main changes since the previous public release, RichViewActions:
values in RichViewActions dialogs can be entered in pixels, points, cm, mm, or inches;
new toolbar icons for Delphi 2009-XE projects (both with classic toolbar and TRibbon).
The complete lists of changes (since TRichView 12.0, RichViewActions 2.0, ScaleRichView 3.0):
Trial versions are available.
December 21, 2010: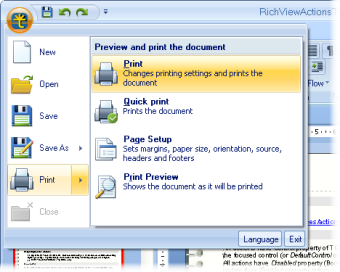 We are happy to present a new set of toolbar images created specially for TRichView
The set includes:
32x32 icons: 32 pcs
16x16 icons: 140 pcs
several additional icons for using in scrollbar areas of TSRichViewEdit
The set includes high quality toolbar icons with semitransparency (alpha channel). When designing the icons, we had Microsoft Word 2007 user interface (implemented as TRibbon in Delphi) in our mind. However, our set does not copy Microsoft images, the icons are completely original. The icons corresponds to existing and planned commands of RichViewActions.
October 1, 2010:
TRichView 12.6 and RichViewActions 2.2
New versions of TRichView and RichViewActions are available for downloading.
Main new features:
Compatibility with Embarcadero Delphi and C++Builder XE
Better algorithms for line wrapping and table sizing
Improved usability
New demo project using TRibbon component (for Delphi 2009, 2010 and XE)
You can read the complete list of changes:
Trial versions are available.
TRichView on The Web